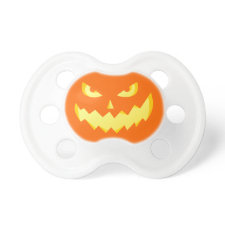 My daughter still uses a pacifier at age two and a half and my wife and I have heard numerous times that if we don't wean her soon, she will have permanent dental problems. We were also told to avoid them soon after her birth, so as to not interfere with breastfeeding. There seems to be a lot of confusion regarding whether pacifiers are helpful tolls, or just plain evil. Here's a short review.
1)
Pacifier use in newborns helps prevent SIDS (crib death)
TRUE
A review of seven studies published in 2005 by the
University of Virginia School of Medicine showed a clear advantage in SIDS prevention among infants under one who used a pacifier for sleep. The researchers showed that for every 2733 babies of used pacifiers, one episode of SIDS could be prevented, which, when considering the terrifying outcome of SIDS, is certainly compelling.
2) Pacifiers can interfere with establishing breastfeeding in the first month
MAYBE BUT PROBABLY NOT
Several studies from different countries have corroborated data which shows that pacifiers can interfere with nursing. Each of these studies has some flaws, but together they seem to agree that pacifier use should be delayed until breastfeeding is established.
However, a mechanism to explain exactly why it is that pacifier use blocks successful nursing has not been found. Many lactation experts speak of "nipple confusion" as an explanation. In this hypothesis, the pacifier represents a "fake" nipple, eroding the child's ability to learn correct latch and milk expression from a real, and very differently shaped nipple. La Leche League International states "
Pacifiers can be risky for breastfed babies. When it comes to comforting newborns, they are not right for the job, and mothers should avoid them until breastfeeding is well established, at least for the first three or four weeks. "
Others have postulated that pacifier use decreases an infant's frequency of nursing and ability to empty a breast. This leads to decreased milk production through a hormonal process.

(see bottom of article for explanation)*
Both the above hypotheses have not, as of today, been proven. The lack of mechanism by which pacifiers interfere with breastfeeding creates a "chicken and egg" dilemma. While there is a clear
association
between pacifier use and breastfeeding disruption, there is no clear
causation
. In other words, it is unclear whether parents who chose to use pacifiers do so because they are having trouble with nursing in the first place. So we may be blaming pacifiers for diminished nursing when the initial problem may be unrelated.
Finally, a 2001 study, published in the Journal of The American Medical Association, looked at 258 infant-mother breastfeeding pairs who either used a pacifier or did not. They found no increase in breastfeeding weaning at age three months with pacifier use. Interestingly, the perception during the experiment was that pacifiers did cause earlier weaning. But when the statistical numbers were run, no such effect was calculated.
3)
Pacifiers Cause Dental Problems
FALSE BEFORE AGE THREE
An "orthodontic" pacifier
Pacifier use in the first years of life is well known to temporarily change children's tooth alignment. However, there is some, but relatively limited data to suggest that pacifier use is responsible for permanent dental changes.
A few studies conducted in the 1970s showed no or minimal relationship between pacifiers and permanent dental alignment issues. The lack of relationship was especially true when pacifier use was stopped prior to age four.
A newer study, published in "Pediatric Dentistry" in 2005, studied 444 children.
Here, researchers found an increase in the occurrence of overbite in children who used a pacifier until ages two to four. A 2004 study, published in 2006, concluded that "
Pacifier use beyond the age of 3 contributes to a higher incidence in anterior open bite, posterior cross bite and narrow intercuspid width. The greater the longevity and duration of pacifier use, the greater the potential for harmful results"
In all studies, special "orhtodontic" versus regular pacifier shapes, made no difference in dental outcomes.
The bottom line is that the data on whether pacifiers cause permanent dental changes is somewhat mixed. There seems to be pretty clear evidence that pacifiers can lead to permanent dental alignment problems, but those tend to start with use past ages two to four. Also, it seems clear that the longer a pacifier is used, the more severe the problems may become. However, based on the data available, it seems very reasonable that the AAP has recommended avoiding pacifier use beyond age three.
4)
Pacifiers can cause more ear infections
TRUE
(but...)
There is strong evidence that using a pacifier increases the risk of ear infections by about 1.5 times. There are several studies that show this causation and one that even showed that the more pacifier use was reduced, the more the rate of ear infections decreased.
However, breastfed babies using pacifiers had a decrease in ear infections compared to all infants who were not breastfed, regardless of pacifier use.
There indeed seems to be a connection, but in general, the increase in infections may eliminated by breastfeeding.
Summary
Pacifiers can decrease the chance of SIDS

There is a chance that pacifiers interfere with nursing, but a causation has not been well proven

Pacifiers can permanently interfere with normal tooth development, but the likelihood of this happening is small under age three

Pacifiers increase the chance of ear infections but not by much and these infections can be avoided with nursing
The Verdict On Pacifiers
Pacifiers can be extremely useful to families. They can provide hard working, breastfeeding mothers with much needed breaks and fussy infants with oral soothing they require. There are significant advantages to pacifiers and they can even help save lives. An overly strict policy of no pacifier use until good nursing is established might be unnecessary as a true connection between use and breastfeeding failure has not been yet established. In situations where breastfeeding is proving very challenging, parents may want to meet with a lactation consultant when possible for a more comprehensive review. From the available data, it seems that the risk for permanent dental problems with pacifier use is minimal, if children are weaned from use before age three. Finally, while there is an increased risk of ear infections with use, parents should balance that information with the risks of SIDS and try to breastfeed if possible.
* Explanation from above:
Milk is produced by lactocytes (milk cells) in the milk collecting channels of the breast. When milk is not frequently removed from the breast, a hormone called FIL (feedback inhibitor of lactation) is released. This tells the breasts to gradually produce less milk over time. Based on this, some have hypothesized that actions which decrease the number of breastfeeding sessions (such as choosing to give a crying baby a pacifier as opposed to a breast), leads to increased milk retention. This retention then triggers release of FIL and diminishes milk volume over time.